© Foto Mühlviertler Granitland/Andreas Balon: Granitpilgern Wanderweg im Mühlviertler Granitland, herbstliche Landschaft mit Weitblick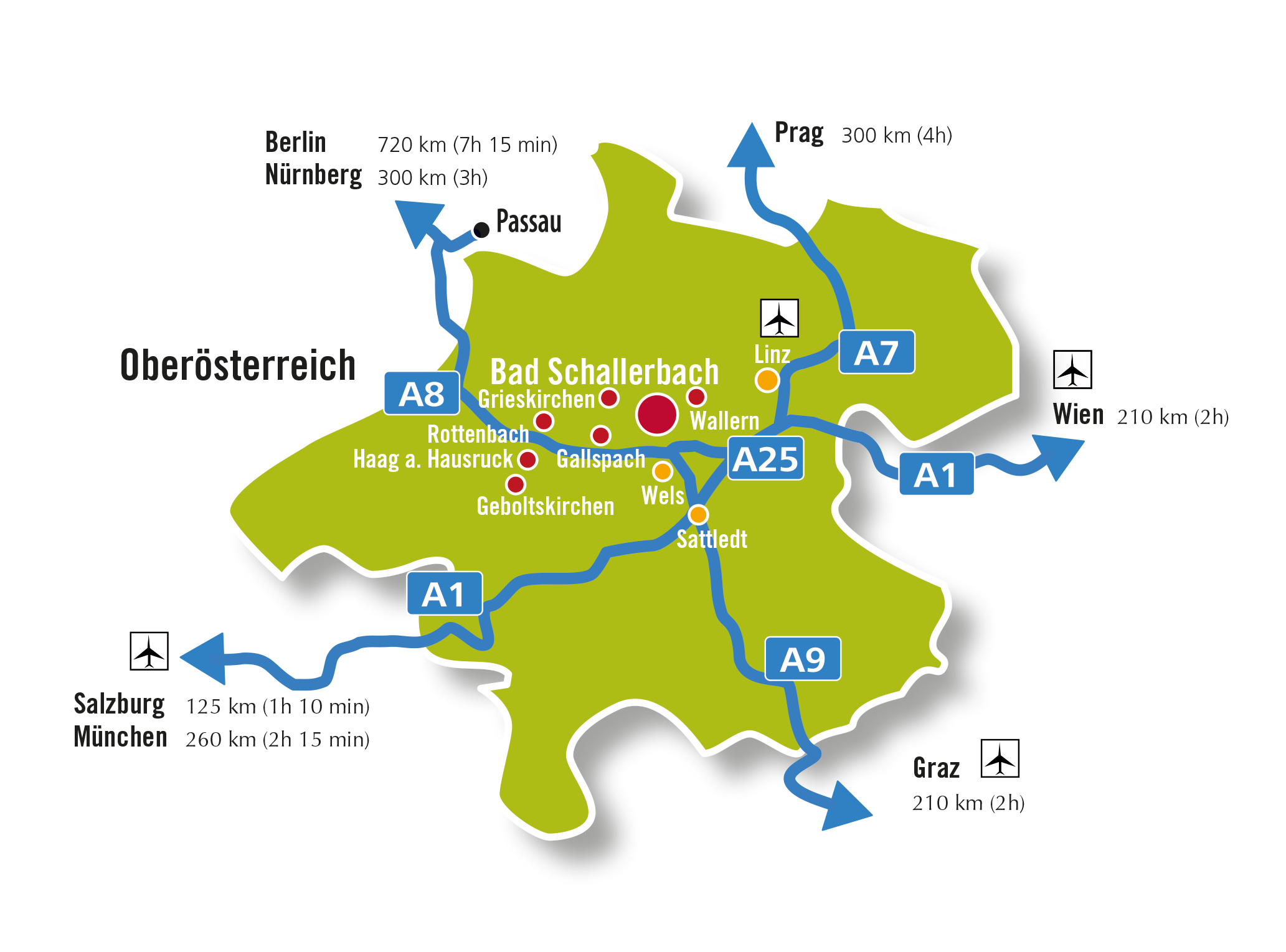 Excursion tips for magical autumn holidays
Spend unforgettable autumn holidays in the enchanting Vitalwelt! This time of year transforms nature into a true spectacle of colour and offers numerous opportunities for exciting excursions. Explore charming villages, taste autumnal delicacies in local restaurants and immerse yourself in the autumnal atmosphere of this unique region. Our excursion tips will help you enjoy the magic of autumn in the Vitalwelt to the fullest.
EurothermenResort Bad Schallerbach
The place where you can really relax and recharge your batteries is the EurothermenResort Bad Schallerbach. Dive into tropical waters, relax in a paradisiacal ambience and do something for your well-being! If you feel good, you stay fit and vital for longer. Whether in the Tropicana convertible spa, in the AusZeit sauna mountain village or in the Aquapulco pirate world - the Bad Schallerbach spa has something to offer for everyone.
Schmiding Zoo and Aquazoo
There is hardly any other zoo where visitors can get as close to the animals as at Zoo Schmiding. From elegant giraffes and Siberian tigers to vultures in the walk-in bird of prey enclosure and Austria's only gorillas, this zoo has the right animal for every taste.
Sea lovers will get their money's worth at the Aquazoo. In the huge marine aquarium you can meet reef sharks, a gigantic sea turtle and numerous other sea creatures such as anemone fish and surgeon fish.
Indoorgolf Wallern
Indoorgolf Wallern is a great place to go to in autumn. The golf simulator offers a perfect alternative in bad weather and allows you to work on your stroke accuracy or get to know golf as a new sport. The simulator has modern software and is regularly updated with new golf courses. Whether you are a beginner or an experienced golfer, here you can practice your skills and have fun regardless of the weather.
Luisenhöhe lookout tower
The lookout tower at the summit of the Luisenhöhe in the middle of the Hausruckwald is the last stop on the "Path of the Senses". On a clear day, the 32-metre-high wooden tower offers a magnificent view in all directions: Look forward to the wonderful panoramic view from the Lower Austrian Ötscher over the Dachstein to the Salzburg Untersberg as well as from the Innviertel over the Bohemian Forest to the Upper Austrian central region.
Leisure and motorics parks
Coordination, dexterity and endurance can be trained in the leisure and motorics parks. They offer a variety of equipment and exercise opportunities for every age group, playful and free training for coordination, fitness and dexterity.
Obstacle Course Racing
The OCR (Obstacle Course Racing) club "The Finishers" offers an exciting destination for young and old in autumn. With their own outdoor training area for adults and children, adventurous people of all kinds will find plenty of opportunities for sporting activity. Perfect for those who want to enjoy autumn in nature and improve their fitness at the same time.
Bike and e-bike rental
Bicycles and e-bikes put the 7 places of the Vitalwelt literally at your feet. With less effort, you can reach even more excursion destinations, while the physical exertion is still not neglected. If you don't bring your own bike on holiday, you can simply borrow one before setting off to explore the Vitalwelt.
Aquapulco Family Days
Bad Schallerbach
Family short vacation with pirate feeling for small and big water rats!
Time period: 01.10.2023 - 30.09.2024
From € 375,00
Family Combo
Bad Schallerbach
Family short vacation with pirate world and South Sea fairies under palm trees!
Time period: 01.10.2023 - 30.09.2024
From € 416,00
© TVB Pyhrn-Priel / Florian Lierzer
Family-Fun
Bad Schallerbach
Cycling enthusiast, water rat or zoo lover? On this 5-day holiday, family fun is guaranteed.
Time period: 01.10.2023 - 30.09.2024
From € 745,00